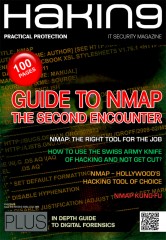 Joscor.com and Hakin9.org have been working closely over the past month on Hakin9 Magazine's latest "Nmap Guide Revisited – Hakin9 Tutorials" issue.  Joscor, and many other authors from companies such as IBM, Microsoft, HP, Qualys and FireEye, have constructed an extremely detailed and comprehensive guide for Nmap, an invaluable software tool for IT administrators, security professionals and hackers alike.
Hakin9 Magazine is a have for anyone in the IT industry or hacker sphere.  With coverage topics on Wireshark, Wi-Fi and Android hacking and the latest technical and hacking conferences going on around the world.
Check out the latest issue featuring a full article from myself and look for Joscor's advertisements!  http://hakin9.org/nmap-guide-revisited-hakin9-tutorials/
Practical NMAP Scanning
By Joshua Cornutt, CompTIA A+ Certified Professional IT Technician

Network Mapper (Nmap) allows for the discovery of live computers/hosts on a network as well as detects running services and supported communication protocols. It's one of the most essential tools for any systems/network administrator, IT security professional and/or hacker. This instructional will guide you through using Nmap to effectively scan a subnet for live hosts, determine the status of firewall ports, iterate through running services and identify vulnerabilities.