Anthera Pharmaceuticals (NASDAQ:ANTH) is a bio-pharmaceutical company developing drugs to treat serious diseases associated with inflammation and autoimmune disorders.  Recently they have been performing clinical trials using the drug "Blisibimod" on Lupus patients.
Blisibimod (also known as A-623, formerly AMG 623) is a selective antagonist of B-cell activating factor (BAFF, also known as B-lymphocyte stimulator or BLyS), being developed by Anthera Pharmaceuticals as a treatment for systemic lupus erythematosus. It is currently under active investigation in clinical trials.
Stock Analysis
June 27th, 2012 analysis
Currently Anthera has progressed their clinical trials to Phase 3 trials.  Phase 2b PEARL-SC clinical trials produced impressive results on the treatment of Lupus.  The below Phase 2b results show the difference in efficacy between patients given a placebo and patients given 200mg subcutaneous Blisibimod.   These results were published June 27th, 2013.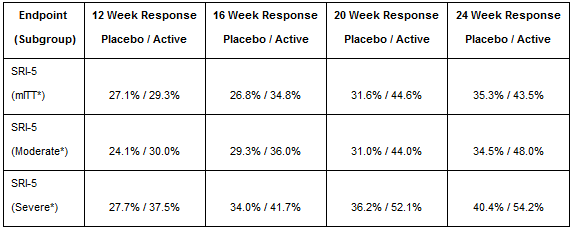 This kind of news from a company like Anthera would naturally excite shareholders as it means the company will progress to Phase 3 and possibly to a marketable product.  So let's take a look at what their stock looked like around June 27th, 2013 and see what happened in practice.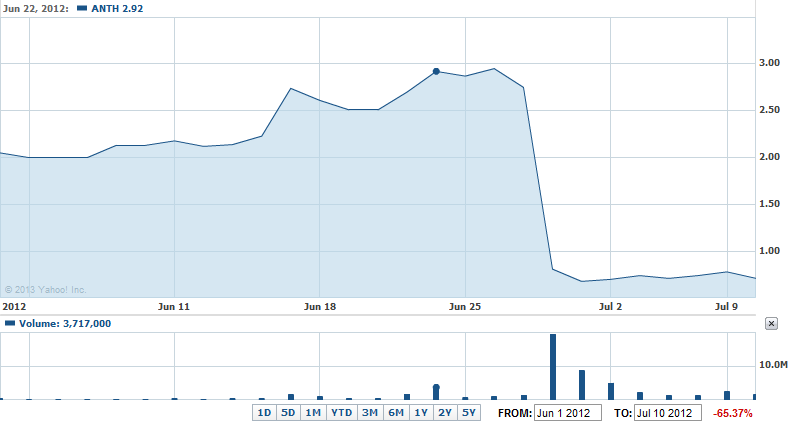 Not quite what you expected, was it?  Right as the press release was published their stock took a steep dive, taking the stock from a healthy $2.95/share to a weak $0.68/share.  Also if you look at the bottom stock trade volume metrics you will notice huge spikes just as the stock plummeted.  This is due to a stockholder scramble to sell because of the diving stock price (well, not entirely, but I'll get to that in a second).
So what happens when great corporate news is revealed?  Basically the entity shares its success with its internal shareholders who in turn share with other local interested parties.  Then the corporate marketing/PR team assembles a press release for the general public and either pushes it to news or lets news discover it on their website or other medium.  By the time the news reaches the average consumer it is still warm, but not fresh off the stove.  This puts most stockholders who don't have an intimate understanding of a company at a clear disadvantage because they're playing the game backwards by placing bets after the win has been announced.  The true stockholder winners here are ones that saw this coming months ago and rode the stock price all the way to $2.95/share (which, keep in mind was at only $2.00/share less than 1 month prior) and then dumped the stock when the great news was publicly announced leaving the amateur investor with the bill as the savvy investors tank the stock by rapidly selling their (many) shares.
So how is it that investors knew that Anthera would be releasing potentially exciting news late June?  They had read their financial and clinical progress for Q2 2012… Take a look from their press release on May 3rd, 2012:
In conjunction with the PEARL-SC DSMB meeting, an independent statistician conducted an interim efficacy analysis after the 350th enrolled patient reached the 24-week time-point of the study. Following the results of the analysis, the statistician recommended the continuation of the PEARL-SC study to completion. The company is expecting final top-line data this quarter.
Taking into consideration that Q2 has a span from the beginning of April to the end of June, this isn't seeming all that far-fetched for an investor to catch on to.  Basically that blurb above tells an investor two things.  When the stock will move due to public reaction (because of an anticipated press release) and that the future news is likely to be good or exciting (as a third-party consultant recommended that the trials continue based on current results).
November 1st, 2012 analysis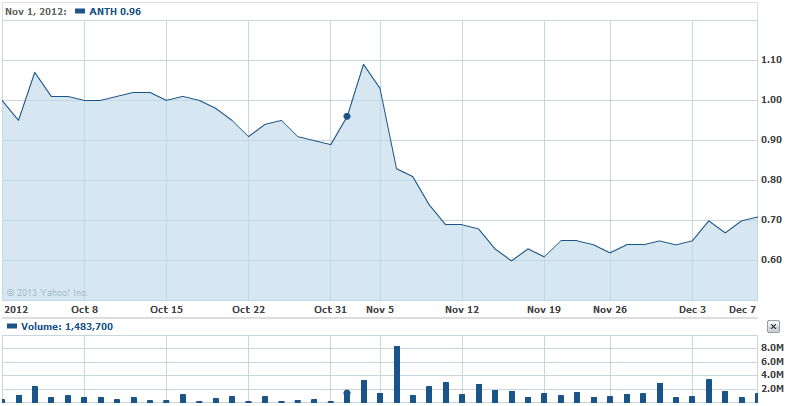 As you can see, there was a stock price spike from October 31st, 2012 to November 2nd, 2012.  This was attributed to the press release by Anthera on October 24th, 2012 and then fueled by an additional release on November 1st, 2012.  Two things happened to cause this spike, the first is the announcement of the Federal Drug Administration allowing Anthera to proceed to Phase 3 clinical studies.  The second is Anthera's Phase 2b results being accepted as a late breaking poster presentation at ACR/ARHP Annual Scientific Meeting.
Here's a quick blurb from the October 24th, 2012 press release about the FDA granting additional trials:
The Company has completed discussions with the U.S. Food and Drug Administration (FDA) which will allow for the submission of Phase 3 protocols and the initiation of registration studies. FDA has confirmed the primary endpoint of SRI-8 evaluated at week 52 is acceptable for use in our Phase 3 clinical studies.
Even though there is a small gap in time between stock price reflection of this news, it seems some media outlets did not expose this release for a few days.  For instance, LifeSci Advisors did not publish the information of Blisibimod entering Phase 3 until October 31st, 2012 (Read: LifeSci Advisors, Anthera Oct 31 2012 Report).  Pair that with the exciting news of Anthera presenting Blisibimod's success in Phase 2b at a scientific conference and we have a winner!  Once again, just as studied before, the investors profiting had invested earlier and waited until these articles trickled down to the public and then sold rapidly and, in exchange, deflating the stock and leaving the average investor stuck with a losing ticket.
Stock Forecast
Based on the stock analysis of ANTH I have formulated my own prediction of where this particular stock is heading over the next year.  Here's a paragraph from Anthera's latest press release on March 27th, 2013:
The Phase 3 CHABLIS-SC1 study is a multicenter, placebo-controlled, randomized, double-blind study designed to evaluate the efficacy, safety, tolerability and immunogenicity of blisibimod in patients with clinically active SLE (SELENA-SLEDAI  > 10) who have not achieved optimal resolution of their disease with corticosteroid use. The study will enroll patients from Latin America, Asia Pacific and Commonwealth of Independent States who will be randomized to receive blisibimod or placebo for 52 weeks after which they will have the option to receive blisibimod therapy in an open-label, long-term, follow-up safety study. The study will enroll approximately 400 patients and the primary endpoint will be a Systemic Lupus Erythematosus Response Index-8 (SRI-8). An SRI-8 responder is defined as a patient who has achieved a reduction in SELENA-SLEDAI equal to or greater than 8 points, and no new BILAG A or two B organ domain scores, and no increase in Physician's Global Assessment (PGA) of greater than 0.3 on a three point scale. As part of the CHABLIS-SC1 clinical study an independent statistician will conduct interim analyses to validate key study assumptions.  A summary of these analyses will be published later in 2013.
So what's important here to indicate stock movement?  Well a few things, the first being that the full study is a full year long and the second is that, just like previous trials, they will have an independent statistician conducting analyses of the trial throughout the trial period.  As the trials show success and the results are published throughout the trial period, the stock price will go up as the public hears the good news.  At the end of the trial when the final results are made public, if both CHABLIS-SC1 and CHABLIS-SC2 are successful, it will mean that the company has successfully tested Blisibimod and they could potentially begin taking it to market which would have a large positive impact on stock prices.
I personally have bought stock in Anthera Pharmaceuticals and will continue to do so soon as the price is low and there will be a bit of a lull due to a new long-term study beginning (thus little to report for a period of time, boring stockholders and settling the stock price).  Now is the time to buy and I fully anticipate a return later in the year as more results from the clinical trials are made public.