Anonymous Communication
We just launched a free new web service called DeepTalk.net that allows people to share sensitive information in a secure and private environment. The idea was formed after we needed to share newly changed passwords with a client and realized that there was not a quick and secure solution that would be convenient and simple enough for the client to use.  DeepTalk is essentially a website where anyone can start a chat room, share the URL of the room with someone, and exchange sensitive information without worrying about a third party spying on them.  DeepTalk has no database, thus it does not store messages or even log information about the users connecting to the service.  Users remain anonymous to both the service and anyone in the same chat room unless they choose to reveal any Personally Identifiable Information (PII).  There's no registration or fees, it's just a quick way to get information to someone quickly with everyone's security and privacy in-tact.
The goal of the site is to get users away from sending confidential or sensitive information over heavily monitored outlets such as Gmail, Dropbox, Skype, or general email. In almost every case, the service you're currently is recording any information you send (since you've already agreed to this happening in their Terms of Service that you carefully read line by line… right?).  DeepTalk is different. We don't need your data, we're not trying to make a quick buck or to make some big data discovery. We just want to provide a no-nonsense, lightweight service where people can talk to one another freely and without being monitored.
No software to download, no account to manage, no muss, & no fuss.  It's the easiest way to share passwords with clients.  We hope to add a "random room generator" soon as well as allow some rooms to be password protected for a short amount of time for added privacy.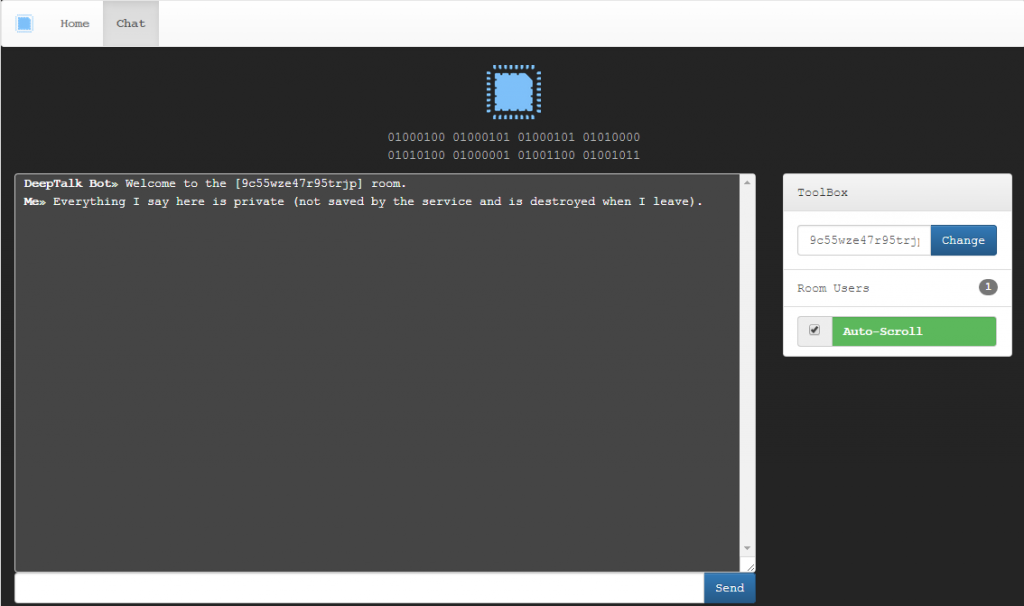 If you have any feature requests, bug reports, or just need a better explanation of how DeepTalk works – Contact us. We'd love to here from you!